"Education is not preparation for life, education is life itself" – John Dewey
I have always wondered what education is…. Is it the 1×1 or the A for Apple I learnt in my primary school or the 2x+x=3x, I learnt in the secondary level. Well no matter how far the internal ravings of my mind take me, I have to further my "education", get into a good school, get a job and make it big in life. All in that order.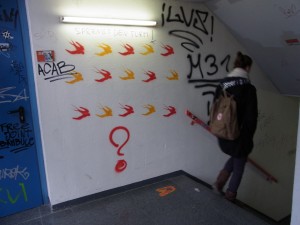 The dilemma faced before scaling through the other hurdles in life is getting admitted into the university, especially in a country like Nigeria where JAMB is known to "jam" a lot of people several times. Thank God for the initiative taken to give students the opportunity to pick a University, a polytechnic and a college of education of their choice.
Getting into the university is a life lesson on its own, one we must all be ready to learn. We all set our sights on the bigger picture of campus life and after, but what about getting into this campus to begin with. Asking ourselves the right questions help in making things easier and free for us. Questions like:
What is my preferred course of study?
Science students have this mentality of being a doctor, and engineer, etc, a commercial student wants to be a big shot banker, an art student wants to be a world famous artist, or artiste or a movie star. There is the place of passion in life and what you think you're capable of or want to study. We often times tend to develop or realize our passions later, I know I did.
What do you intend to study? How good would it be for you and of what benefit is it to you in the long run. Those are the first series of questions you need to ask yourself.
Next is the problem of what school offers the best in that field of study. What do you gain by going to that particular school? Would there be opportunities for you to explore? What are the subjects you need to have done in your UTME and WAEC?
The internet is an abyss of information, all you need do is type in the name of the school you are setting your sights on, get as much information as you can so you know what you're getting into and what you need to do.
If possible, visit the school before you apply and get pamphlets/info packages. Meet with people in the department you are applying to, ask questions, know what you're getting yourself into.
Most importantly, do not make the mistake a lot of young people make. Thousands of people have their eyes set on big schools like the University of Lagos, University of Ibadan and so on forgetting that there are other schools that offer great learning environments and packages in your intended field of study.
I know of a young lady that picked Unilag three times and got in the third time, and it wasn't even for her preferred course of study. Why sit at home for years in pursuit of entrance into one school when you can set your sights on other institutions that offer as much quality if not more of the knowledge you wish to acquire.
photo credit: Der AfE-Turm – Reclaim your Campus * via photopin (license)