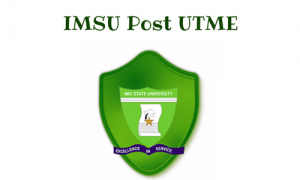 ALL AN ASPIRANT SHOULD KNOW ABOUT IMSU
Every year, over 80,000 students apply for admission into one course or the other in the Imo State University Owerri, it will shock you to know that only about 3000-4000 of those students eventually get admitted.
For aspirants who hail from Imo State, you should know by now that the Imo State government will offer you free education if you get admitted into the institution. For non-indigenes of the state, IMSU is one of the state universities I will recommend because their fees is not as exorbitant as obtainable in other state owned universities in the country.
The school was formerly ranked the best State University in the country and the 10th amongst state and federal universities.
To get admitted into the Imo State University an aspirant needs to 1. Choose the school as first choice in Jamb. 2. Work hard and score above 180 in Jamb, 3. Score above the required cut-off mark in the post-utme exercise conducted by the school. And finally ensure that he/she has the required O'level credits to study his/her course of choice.
Get the IMSU Post UTME Past Questions
The Imo State University also conducts a computer based post-utme examination (CBT) for aspirants. IMSU post-utme application form goes for only N4000 and is sold on some designated banks in and around Imo state as specified by the school each year. The good thing about this payment is that it covers for registration, screening, result checking and portal charges.
Below is a list of courses offered in IMSU, their O'level requirements and Jamb subject combination.
| | | |
| --- | --- | --- |
| Department | O'Level requirement (credit in either WAEC, NECO or NABTEB at not more than two sittings) | UME subjects |
| Agric extension and rural development | English, maths, physics, biology, chemistry | Chemistry, Physics and any other science subject |
| Accountancy | English, Maths, economic, government and commerce | Maths, economics and government |
| Animal science and Fisheries | English, maths, physics, biology, chemistry | Biology, chemistry, physics |
| Agric Engineering | English, maths, physics, chemistry and any social science subject | Maths, chemistry, physics |
| Architecture | English, maths, physics, and any other 2 science subject. | Maths, physics, geography |
| Biochemistry | English, maths, physics, biology, chemistry | Biology, chemistry, physics |
| Optometry | English, maths, physics, biology, chemistry | Biology, chemistry, physics |
| Medical Laboratory Science | English, maths, physics, biology, chemistry | Biology, chemistry, physics |
| Banking and Finance | English, Maths, economics, government and commerce | Maths, economics and government |
| Management | English, Maths, economics, and any other 2 social science subject | English, Maths, economics, government and commerce |
| Biology Education | English, maths, physics, biology, chemistry | Biology, chemistry, physics |
| Chemical Engineering | English, maths, physics, chemistry and any other science subject | maths, chemistry, physics |
| Civil Engineering | English, maths, physics, chemistry and any other science subject | maths, chemistry, physics |
| Crop Science And Biotechnology | English, maths, physics, chemistry and biology | biology, chemistry, physics |
| Computer Science | English, maths, physics, chemistry and any other science subject | maths, physics and any other science subject |
| Theatre Arts | English language, literature in English, commerce, and any other 3 arts or social science subjects | Literature in English, commerce, and any other 2 arts or social science subjects |
| Biochemistry | English, maths, physics, chemistry and biology | biology, chemistry, physics |
| Economics | English, maths, economics, and any other 2 social science subjects | Maths, Economics, commerce |
| Chemistry/Industrial Chemistry | English, maths, physics, chemistry and biology | maths, chemistry, physics |
| Fine & Applied Arts | English, maths, Literature in English and any 2 social science or arts subjects | Literature in English and any other 2 social science subjects |
| Soil Science and Environment | English, maths, physics, chemistry and biology | maths, chemistry, physics |
| Hospitality and Tourism Management | English language, literature in English, government and any other 2 social science subject | Literature, government and any other social science subject |
| Linguistics and Igbo | English language, literature in English, language and any other 3 social science subject | Literature in English, and any other 2 social science subject |
| Religious Studies | English, IRS or CRS, and any 3 social science or arts subjects | CRS or IRS and any other 2 social science subjects |
| English language and Literary Studies | English, maths, government, commerce and any other social science subjects | Government, Commerce and any other social science subject |
| ElectricalEngineering | English, maths, physics, chemistry and any other science subject | maths,physics,chemistry |
| English Language | English language, literature in English, government   and any other 2 social science subject | Government, and any other 2 social science subject |
| Library and information Science | English, maths, government, and any 2 social science subjects | Economics, commerce and other social science subject |
| Estate Management | English, maths, physics, geography   and any other science subject | Maths, physics and Geography |
| Marketing | English, maths, Literature in English, French and any other social science or arts subject. | Literature in English and any other 2 social science subjects |
| Geography & Environmental Management | English, maths, Geography, and any 2 science subjects | English, maths, Geography, and any 2 science subjects |
| Medical Rehabilitation | English, maths, physics, chemistry and biology | biology, chemistry, physics |
| Health Education | English, maths, chemistry and biology and other science subject | biology, chemistry, physics |
| History and International Studies | English language, literature in English, government   and any other 2 social science subject | Literature, government and any other social science subject. |
| Life Science Education | English, maths, physics, biology, chemistry | Biology, chemistry, physics |
| French | English language, literature in English, and any other 3 social science subject | Literature in English, and any 2 social science subject |
| Foundation and Counseling | English, maths, Literature in English, government and any other social science or arts subject. | Government, literature in English and any other social science subject. |
| Law (all) | English language, literature in English, Government and any other 2 social science subject | literature in English, Government and any other social science subject |
| Language education | English language, literature in English, Government and any other 2 social science subject | literature in English, Government and any other social science subject |
| Management | English, maths, economics, government and commerce | Government, commerce, and economics |
| Marketing | English, Maths, economics, government and commerce | Commerce, economics and any other social science subject |
| Mass Communication | English, Maths, government, commerce and any other science subject | Commerce, government and any social science subject |
| Mathematics | English, maths, physics, chemistry and any other science subject | Maths, physics and chemistry |
| Mechanical Engineering | English, maths, physics, chemistry and any other science subject | Maths, physics and chemistry |
| Nursing Science | English, maths, physics, chemistry and biology | Biology, chemistry, physics |
| Physical Science Education | English, maths, physics, chemistry and biology | Biology, chemistry, physics |
| Medicine and Surgery | English, maths, physics, chemistry and biology | Biology, chemistry, physics |
| Surveying  & Geo-Informatics | English, maths, physics, chemistry and any other science subject | Maths, chemistry, physics |
| Animal Science and Environmental Biology | English, maths, physics, chemistry and biology | Biology, chemistry, physics |
| Plant Science and Biotechnology | English, maths, physics, chemistry and biology | Biology, chemistry, physics |
| Pharmacy | English, maths, physics, chemistry and any other science subject | Biology, chemistry, physics |
| Philosophy | English, maths, literature, government and any other 2 social science subject | Literature in English, government and any other science subject |
| Physics/ Industrial Physics | English, maths, physics, chemistry and any other science subject | Maths, chemistry, physics |
| Building | English, maths, physics, chemistry and any other science subject | Biology, chemistry, physics |
| Political Science | English, Maths, government, commerce and any other science subject | Commerce, government and any social science subject |
| Family, Nutrition and Consumer Sciences | Maths, English, Biology and any other Two social, science or art subjects. | Biology, and any other 2 social or science subject. |
| Sociology | English, Maths, government, commerce and any other science subject | Commerce, government and any other art or social science subject |
| Statistics | English, maths, physics, chemistry and any other science subject | Maths, physics and chemistry |
| Food Science & Technology | English, maths, physics, chemistry and any other science subject | Maths, physics and chemistry |
| Quantity Surveying | English, maths, physics, chemistry and any other science subject | Maths, geography, physics |